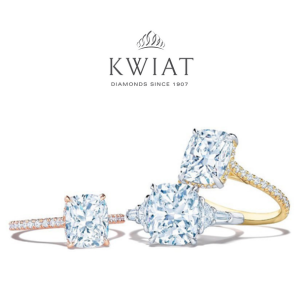 About Kwiat
Experience the timeless elegance of Kwiat jewelry, now available at Frank Adams Jewelers. Kwiat, a name synonymous with luxury, has been crafting exceptional diamond jewelry for over a century. Known for their artistry and attention to detail, Kwiat pieces are celebrated for their radiance and sophistication. Each piece is set with diamonds featuring our own Kwiat Tiara® Cut, all of which are GIA Excellent grade. Frank Adams Jewelers is proud to be an authorized retailer of this prestigious brand, allowing you to discover the perfect Kwiat piece that captures the essence of enduring beauty and luxury. 
Why Choose Kwiat?
Kwiat's jewelry collections are meticulously designed for the modern lifestyle, where beauty meets functionality. Each diamond is carefully matched and set into jewelry pieces specifically created to enhance their inherent brilliance. Kwiat's unmatched attention to detail ensures that settings are delicate yet sturdy, creating pieces that seemingly defy gravity while maintaining perfect balance and necklaces that rest precisely where they should. Furthermore, only the best of the best diamonds make their way into Kwiat jewelry creations. When you choose Kwiat, you're choosing a legacy of precision and excellence that transforms every piece into a timeless work of art.
Popular Diamond Jewelry by Kwiat
Among the most coveted pieces by Kwiat are their exquisite engagement rings, where diamonds are masterfully arranged in stunning designs that symbolize eternal love. From classic solitaires to intricate halo settings, each piece reflects a level of craftsmanship and elegance that surpasses expectations. Beyond engagement rings, Kwiat also offers exquisite necklace and bracelet designs. These include the Diamond String collection with long necklaces gracefully wrapping around the neck. For a personal touch, Kwiat's initial pendants allow wearers to customize their style with a unique and sentimental flair. Whether it's a symbol of love or a statement of individuality, Kwiat's jewelry collections transcends generations.
Discover Kwiat at Frank Adams Jewelers
At Frank Adams Jewelers, our Albany jewelry store proudly showcases an exquisite collection of Kwiat pieces, each a testament to the brand's unparalleled craftsmanship and exceptional diamonds. From stunning engagement rings that capture the essence of everlasting love to elegant necklaces and bracelets that exude sophistication, Kwiat's creations are designed to elevate your style. Our experts also offer comprehensive jewelry services to ensure your cherished pieces are always kept in impeccable condition. Visit us today and let us assist you in finding the perfect Kwiat diamond jewelry. Your journey to discovering exquisite jewelry begins here at Frank Adams Jewelers.
We are an authorized Kwiat retailer. For more information on Kwiat jewelry, please call (518) 435-0075.