Valentine's Necklace Styles to Swoon Over
January 5th, 2022
On February 14th, many people show their love and affection through gifts and special experiences to look back at over the years as fond memories. If you plan on having an amazing date day or evening, then you want to look your best. A beautiful necklace can add the right fire to any outfit to have the day be a rousing success. If you are planning on giving a piece of luxury to the one you love, then an on trend necklace will keep them fashionable all year.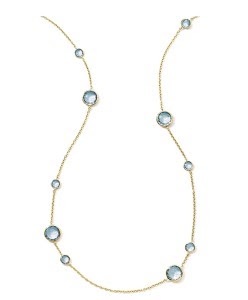 Link Up
While catching up during a date night, chain link accessories can light up an outfit with modest intrigue. Long gold chains, chunky and dainty, have been a hit on many of the spring runways this season so far. 2022 looks like versatility is a must in everything.
A great way to add color and detail is this Ippolita Rock Candy gemstone station necklace. The light-blue, bezel-set topaz in yellow gold on this long cable chain would be beautiful by itself or layered with a couple other necklaces. Be careful about tangles by varying the lengths at least an inch between.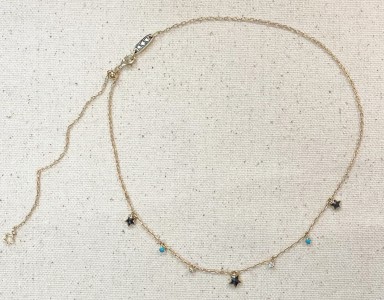 Tight Statements
A choker necklace draws the eye to your neckline and face. No matter if you are choosing a minimalist chain or a more ornate choker, you should make sure that it properly frames your face to benefit your eyes and smile.
Wear your favorite dress or blouse with this charm choker from Jane Taylor that features turquoise and diamond circles in a bezel set along with black diamond stars stationed on this necklace. These gems create subtle sparkles and have a playful design to elevate even the most basic outfit.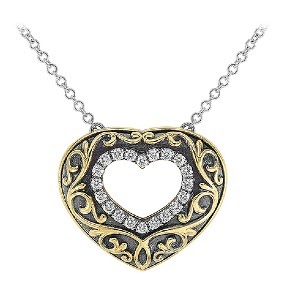 Give Your Love
A heart pendant is a classic way to share, or project, your love on Valentine's Day. Wearing a heart necklace shows that you care about the one who gave you the piece, and that love is important to you.
Romantics will admire this black rhodium heart pendant from Jack Kelege that has yellow gold scrolling filigree to accent and a row of round diamonds to make an inner heart around an open space in the heart. Let love into your life with a beautiful necklace to go with it.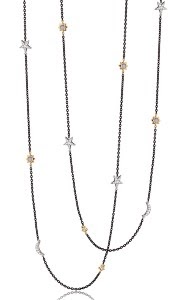 Mixed Medium Attention
Sometimes you just cannot decide. Have your cake and eat it too with a terrific necklace with multiple types of metals and gemstones to add intrigue to your jewelry. Yellow gold with black rhodium along with rose golds with many combinations have been popular with designers recently.
This long station necklace by Monica Rich Kosann is a fantastic piece to mix with your other favorite necklaces. Moonstone and white sapphire bezel set stones are designed inside yellow and white gold stars and moon shapes stationed at intervals on a black stainless steel chain.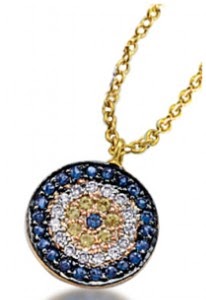 Bold Gems for Your Valentine
Bright accents of colorful gemstones in necklaces creates a high-impact look for a spectacular Valentine's Day. Fashion trends for the upcoming 2022 Spring season are filled with bold accessories and colors to catch the eye. Be remembered with a signature pendant in vibrant shades.
Right on target is this gemstone circle pendant from Meria T that shows off brilliant blue and yellow sapphires with dazzling diamonds between colorful rows. All of the round cut stones are pavé-set into the rose gold circle with a yellow gold chain.
Valentine's Day Necklaces at Frank Adams Jewelers
Frank Adams Jewelers is proud to house fantastic designers with exquisite necklaces to complete your Valentine's Day. With so many incredible options to choose from, trust one of our trained and knowledgeable staff members to help guide you to your next piece of luxury jewelry or finely crafted timepiece. Ask about our watch repair or jewelry cleaning services our jewelers conduct to keep your pieces in perfect condition. Dedicated to our Albany community, visit our showroom or contact us online so that we can help you find a wonderful piece.