Pop the Champagne: Trending Engagement Rings for Your 2021 Proposal
February 10th, 2021
If your significant other is planning to pop the question in the new year, it's essential to find an engagement ring that romanticizes the beauty and passion within your unique love story. Since the new year is approaching as quickly as ever, take the time to find out which sensational pieces are on-trend and will continue to be in 2021.
Which Engagement Rings are Trending in 2021?
While personality and style may dictate your preferences, it's important to keep your options open and find a ring that suits every aspect of what you're looking for. As we begin welcoming 2021, we've gathered some of the most trending pieces at Frank Adams Jewelers.
Three Stone Engagement Rings
Although engagement rings often feature a single diamond in a simple setting, three stone rings are becoming more and more popular. A three stone engagement ring exudes elegance and grandeur, which is the reason it is increasingly adored by those who want a ring with maximum sparkle.
One of the main draws of the three stone ring is the symbolism behind the trio of stones that can signify the stages of love. These rings represent pivotal moments within a couple's love story in the past, present, and future. As we celebrate the new year, feelings of nostalgia and hope for the future burst to the surface, which is encapsulated in the three stone ring as well. Let your engagement ring hold an even deeper meaning as you look forward to a lifetime of love with your partner.

Pear-Shaped Engagement Rings
If you're looking for the perfect way to steer away from tradition and find an engagement ring with a daring appeal, a pear-shaped engagement ring might be everything you have been looking for. This style requires an adventurous soul, yet brides-to-be looking for something new in the new year will be drawn to this lovely shape.
A major advantage of pear shaped engagement rings is the elongated body, as this gives an appearance of longer and more slender fingers to the wearer. Also, an added benefit to this stone shape is that it tends to look larger than other shapes of the same carat weight.
These brilliant cuts have an amazing shine and usually are a sustainable piece due to the slight amount of waste throughout the cutting process.
Solitaire Engagement Rings
The simplicity of the design and the focus on the center stone is what draws women to the solitaire engagement ring. This setting continues to rank as one of the trendiest pieces for new brides especially as we move into the new year.
While there are plenty of gorgeous styles in classic solitaire settings, a unique style that is gaining momentum is a wide-set band for a modern, refreshing take on the solitaire. Specifically, this Martin Flyer Remount Ring features a striking thick band that is as wide as the center stone for a sleek clean silhouette. Choose platinum for a luxurious feel or rose gold for a warm, feminine look. You can't go wrong with choosing this eye-catching style.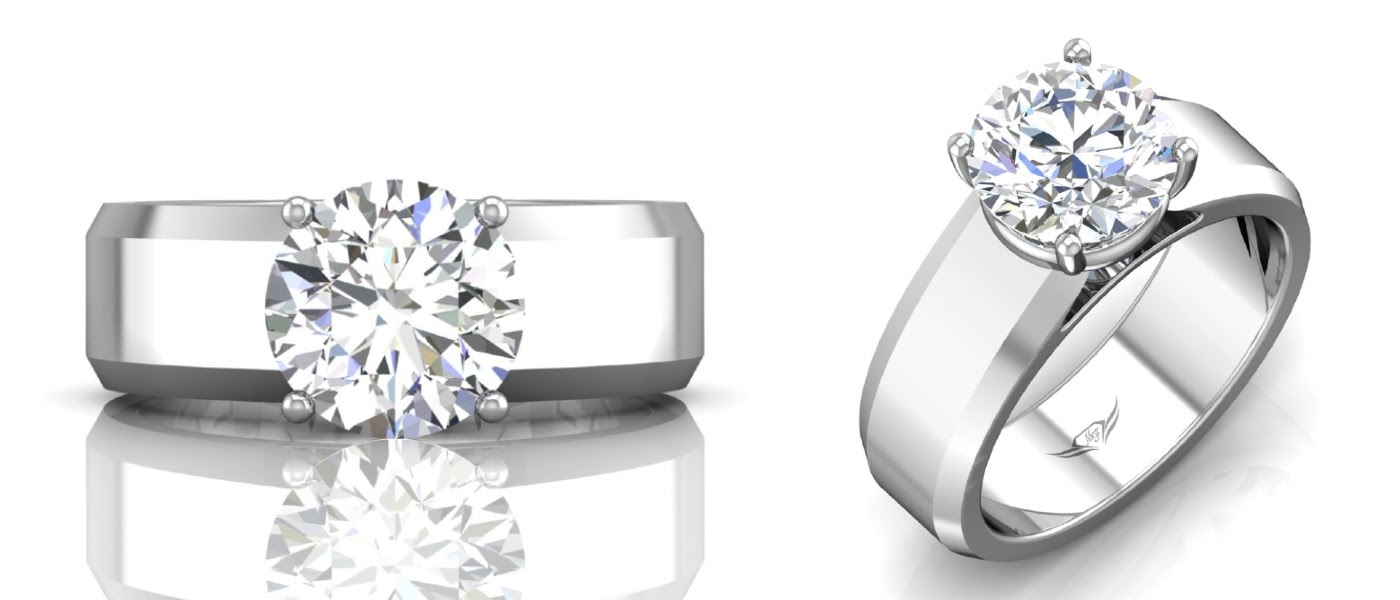 Comfortably-Fit Engagement Rings
When you think about the fact you will be wearing an engagement ring every day, one of the most important factors is looking for one that's comfortable to wear. All Martin Flyer engagement rings are crafted with "Flyer-Fit" technology, which utilizes cutting edge technology to enhance the band of the ring to sit comfortably on your finger as well as effortlessly connecting with a wedding band.
One of our favorites by Martin Flyer is the Micropave Halo Engagement Ring. This ring features a beautiful diamond-encrusted band with a stunning halo to accentuate the glimmer of the center diamond. With its comfortable fit, you can't go wrong with choosing this elegant style and handcrafted design.
Your New Year, New Ring Awaits at Frank Adams
Overall, we understand it is a journey to find an engagement ring that not only represents your personal style, but your unique love story as well. What a joyful process the interpretation of your romance should be. With the help of Frank Adams Jewelers, you will be expertly guided to secure something that will last a lifetime.
With a location in Albany, New York, the Frank Adams team is dedicated to helping each of their clients on their quest for the ideal engagement ring. Shop today and be assured of finding an absolutely sensational engagement ring.