GUIDE TO WEDDING BAND FINISHES

GUIDE TO WEDDING BAND FINISHES
The variety of wedding band finishes allows shoppers to choose a piece that perfectly fits their personality and aesthetic preferences. Each finish has its unique appearance and a level of resistance to scuffs and scratches. As this is likely one of the most important jewelry purchases you will make in your lifetime, it's imperative to consider the benefits and drawbacks of each type. Our experts at Frank Adams Jewelers put together a guide to some of the most popular wedding band finishes to display your love and commitment in style.
POLISHED FINISH
The most popular wedding band finish is the polished finish, also referred to as the "mirror finish." Its glossy and elegant appearance is perfect for those looking for a refined aesthetic. However, the downside to this finish is that it is most susceptible to visible scratches and requires regular maintenance to retain its beauty.
SATIN FINISH
The satin finish is the second most popular choice among wedding band designs. It is characterized by a slightly less luminescent sheen, giving the look of a soft glossy fabric. It is a more understated option than the polished finish, and the scuffs that a ring naturally incurs will be less noticeable.
MATTE FINISH
Even more subtle than the satin finish, a ring with a matte finish is subdued with a velvety texture. This finish is relatively straightforward and versatile, reflecting much less light than the polished or satin finishes. If a muted look is what you desire, the matte finish will be a perfect fit.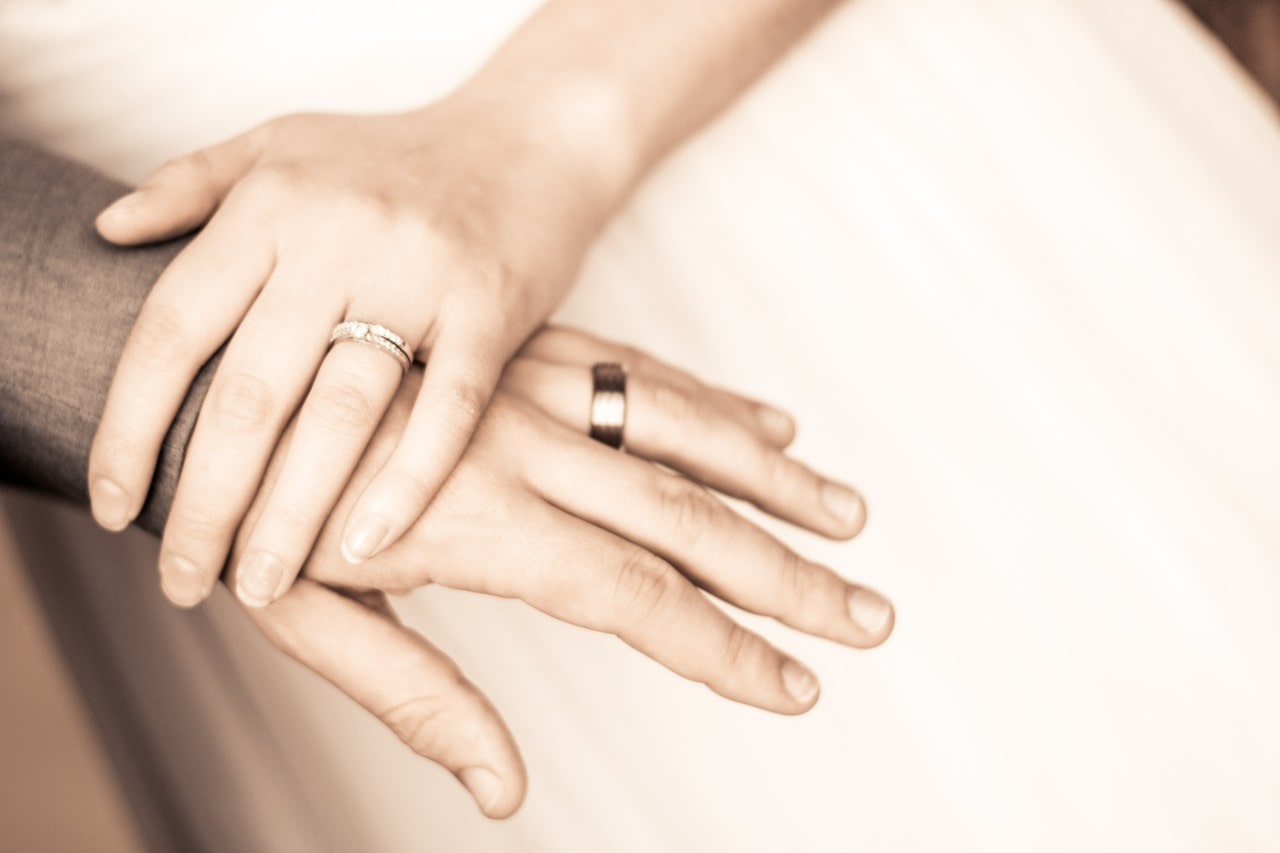 BRUSHED FINISH
This non-reflective finish gives a ring a unique and visually intriguing texture. As the name suggests, it is achieved with a specially constructed brush that creates tiny marks along the surface of the ring to give it a rugged appearance. These marks ensure that any other scratches the ring incurs will be far less noticeable than those on a polished ring.
HAMMERED FINISH
Another textured finish, the hammered finish is achieved by tapping the surface of the ring with a specialized hammer, then a satin finish is applied as well. The shape of the hammer and the amount of force used can alter the ring's appearance. This gives the rings a uniquely dimpled surface and a rustic feel.
SANDBLASTED FINISH
The sandblasted finish is beloved for its coarse, dotted texture and is one of the rarest wedding band finishes. Most often used in men's wedding bands, the sandblasted finish offers a rugged feel similar to the brushed finish. The grainy surface of the ring will aptly hide any damage the piece incurs and give it an eye-catching and unorthodox look.
SHOP WEDDING BANDS AT FRANK ADAMS JEWELERS
At Frank Adams Jewelers, we are proud to offer our customers a plethora of designer wedding bands in a variety of styles and finishes. Stop by our  Albany jewelry store where our knowledgeable staff will guide you through our selection to find the perfect  wedding band for you.  Contact us so that we can assist with your shopping experience.